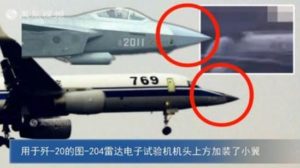 Qianzhan Website reported that the Tu-204 radar electronic testing aircraft used for testing of J-20 was equipped with little wings in the front.
Compared to Boeing-757 which was used for testing aviation electronic test platform of America's F-22 stealth fighter, the wings on China's Tu-204 radar electronic testing aircraft is about double of those of Boeing-757, which included F-22 fighter's communication, navigation recognition avionics system, apart from F-22 fighter's forebody and radome in the front.
Chinese anonymous military experts think that longer wings on Tu-204 for J-20 stealth fighter may indicate that its avionics system is more diversified with F-22's, and avionics system on J-20 is larger than that of F-22 fighter's.
As J-20 has the posterior advantages, it might own more diversified avionics system than F-22, as a result, the overall performance of China's J-20 stealth fighter is probably better than F-22 fighter.