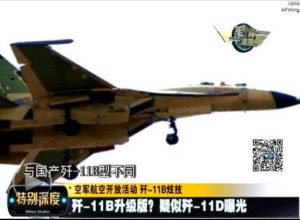 A new-type fighter numbered D1101 was unveiled recently, and analysts think it probably is the new-type J-11D fighter, which is upgraded from J-11B (Flanker B+).
The new-type J-11D features new coating of radome, new active phased array radar, and regular line-styled wing-tip rails, instead of ladder-like mounts of J-11B.
The J-11B fighters in service are probably being upgraded to J-11D fighters in factory, to use the fourth generation .airborne weapons.