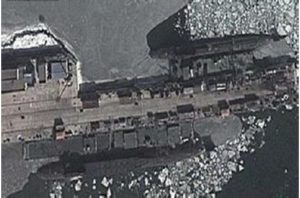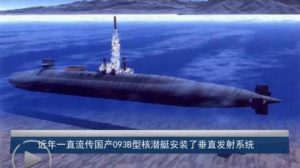 A satellite picture revealed in March revealed that several Type 093B nuclear submarines had obvious hunches, which means the vertical launch device had been installed, but the picture was never verified.
Recently, a souvenir medal indicates that an attack submarine's command set fits the satellite picture, and therefore verified the vertical launch system on China's Type 093B nuclear submarine.
Vertical launched cruise missiles of submarines features all-round attack, large storage capacity of missiles and high rate of launching. But only USA and Russia owned the technology of vertical launch on submarines. If China owns the same ability, its land attack cruise missiles and anti-ship missiles can surprisingly attack military bases of America and Japan in western pacific.
Actually China's Type 032 trial submarine has been equipped with vertical launch cruise missile system, which was the debut of indigenous submarine vertical launch missile of China.
Analysts think that batch service of China's Type 093B attack nuclear submarines would greatly enhance China Navy's underwater attack capability to land targets and large naval vessels. And as for USA and Japan, 093B attack nuclear submarine would threaten their aircraft carriers, cruisers and destroyers greatly, and would be formidable opponents of American and Japanese submarines and other underwater weapons.
Besides, 093B attack nuclear submarine would also greatly improve nuclear counterattack ability of China's Type 094 strategic nuclear submarine and power of future aircraft carrier Battle Group.