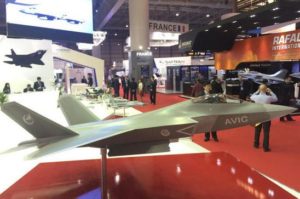 One of China's two stealth fighters – J-31 fighter had its model displayed at the Dubai Air Show on November 8th.
Chinese personnel mainly introduced stealth performance of air-to-ground attack capability of J-31 fighters to overseas clients and media.
J-31 stealth fighter's price is expected to be only 40 to 50 million US dollars, far lower than that of F-35 and T-50 fighters – the only two purchasable stealth fighters on the earth – 120 to 200 million USD.
Important information unveiled at the Dubai Air Show was that J-31 fighter is now using homemade engine, which has 9 tonnes of thrust, instead of Russian RD-93 engine, therefore it has now complete intellectual property rights.
J-31 fighter will own initial combat capability by 2022, and comprehensive combat capability by 2025, according to Chinese personnel at the show. This will just be the end of life expectancy of many third generation fighters, when many countries need to purchase new fighters.
This is the first time for J-31 fighter to go out of China and attend international large airplane exhibition since 2014 Zhuhai Air Show.
J-31 fighter's general designer Lin Peng and Deputy Commander of Chinese Air Force Zhang Honghe appeared at the stand of J-31 stealth fighter.
Vice general manger of AVIC introduced that after 2014 Zhuhai Air Show, J-31 fighter has experienced significant improvements, in respects of performance, platform and system, and has achieved "substantial leap".