Recently, some netizens found China's Shenyang J-31 stealth fighter appeared in Chengdu Aircraft Factory. It was never certified officially, but photos seem to be true, and Chinese military experts think China's J-31 stealth fighter flied to Chengdu to solve two disadvantages.
When J-31 prototype (or "FC-31 fifth Generation Multi-Purpose Medium Fighter") displays at Zhuhai air show last time, large amount of black smoke sprayed from its double engines shocked people. It is said that J-31 fighter is using Russian engines RD-93, the same as for JF-17 fighter. So the two RD-93 engines are even no match for the single one engine of American F-35 fighter.
Besides, using Russian engine would be a serious problem for future export of J-31 fighter. For example, if Pakistan wants to J-31 fighter, Russian might refuse to offer RD-93 engines under pressure of India.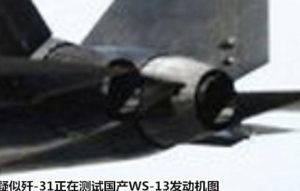 On the photos of J-31 fighter in Chengdu, homemade WS-13 Type Taishan Engine was on test, which was upgraded from RD-93 engine by China and Russia jointly. It represents significant improvement from the original RD-93 and doesn't demand any modification to the aircraft body, but still cannot enable super- maneuverability or supercruise.
Another guess is that J-31 stealth fighter went to Chengdu for a contrast or even confrontation test, to examine their stealth, fighting and flying performances. J-30 fighter's R&D needs to be accelerated as India has determined to buy 154 T-50 stealth fighters from Russia, and Pakistani side might also take a close look at J-31 for preparation of future purchase and mass production.
It is speculated that J-31 fighter won't have very long range because its double engines have occupied a lot of space, so the fuel capacity will be limited.
China needs to focus on J-31 stealth fighter's stealth performance and intermediate-range air-to-air missiles, to avoid being found first and use phased array radar to guide intermediate-range air-to-air missiles. So J-31 fighter will be suitable for countries of small areas.
It is also guessed that Chengdu Aircraft Corporation, which have produced J-10A and J-10B fighters and made J-20 stealth fighter near mass production, is more experienced than Shenyang Aircraft Corporation.