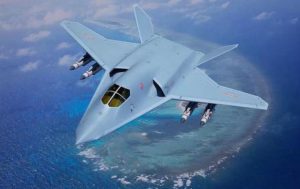 "China Aviation News" released an article on November 27th, saying that a R&D department of AVIC had resolved a key technical issue about "top-mounted zigzag paralleling large S-shaped inlet", which is adopted by B-2 stealth strategic bomber of U.S. The report also unveiled that the department undertakes a series of predevelopment overall and aerodynamic researches.
According to the article, Aerodynamic Design Institute of AVIC has been responsible for aerodynamic design of important military aircrafts like JH-7, KJ-2000, Y-7, Y-8, H-6 and XY-500, and has also been cooperated and exchanged with foreign research institutes like Russian TsAGI and European ETW, DNW and CIRA.
China's Sharp Sword (Li-Jian) UAV also adopted top-mounted inlet, but the shape is relatively simple, not to match the reported advanced one.
There have been various rumors about China's stealth strategic bomber for a while. Some articles on the internet have "reported" trial flights of H-18, H-10 or H-9 bombers of China. For example, a Taiwanese website quoted information from "an insider" in 2010, saying that China had started H-10 stealth strategic bomber since 1998, and China obtained stealth technologies of F-117 and B-2 bombers in 1998 during the Yugoslav War.
And Hong Kong newspaper reported in 2013 that China was developing its first stealth aircraft – H-8 bomber. It was also reported in 2011 that apart from H-8 bomber, China was also developing H-9, which has less bomb load and its maximum speed reaches Mach 3.7, faster than most fighters and air-defense missiles.