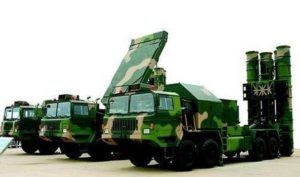 Turkey selected Chinese munitioner CPMIEC's HQ-9 surface-to-air missile (known as the FT-2000 for export) among similar products from Russia, U.S. and Europe two years ago, it is said that HQ-9 could detect and shoot missiles that were not detected by Patriot Missile or S-300 in the tests. HQ-9's range exceeds that of Patriot Missile Defense System and was the only missile that successfully shot all the nine drones in the test. But under pressure of NATO, Turkey abandoned HQ-9 (Hongqi-9).
Chinese military expert thinks Turkey had made a big mistake in giving up China's HQ-9 surface-to-air missile, because only China was willing to offer related technologies, and it would be extremely hard for Turkey to development similar missiles by itself.
Turkey has imported some weapons from China, typically multiple rocket launcher – WS-1, and Turkey also made a copycat of it – T-300 Kasirga.
Chinese military expert Gao Feng said Turkey is now swallowing the bitter pill, in face of Russia's S-400 just about 50 kilometers always, after Germany and U.S. withdrew their Patriot Missiles in August. If Turkey chose China's HQ-9 Long Range Air Defense System, the first batch might have entered service.
However, Chinese analysts think HQ-9 still benefits from the frustration, because it became much more famous in international arms trade market since then, and thus also enhanced influence of all China-made weapons.
HQ-9 has a series of advantages; it can detect targets in a range of 120 kilometers and track 100 air targets within 90 kilometers simultaneously. It takes 180 kilogram warhead and has a highest speed of Mach 4.2. The maximum range is 125 kilometers, a bit less than that of S-300 of Russian, but its reaction time is only 15 seconds and can deal with nearly 50 targets simultaneously, compared to 6 targets of S-300.
Besides, HQ-9's price is low. It won the bidding of Turkey with an extremely price of 3.4 billion USD, much lower than any other competitors.