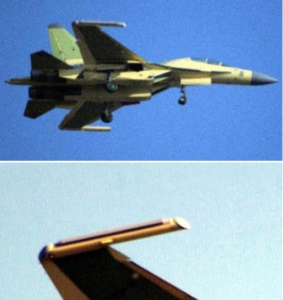 A photo of a new-type homemade heavy fighter of China was unveiled on the internet recently, which features very thick electronic pods. It was reported before that chief designer of Shenyang Aircraft Design Institute Wang Yongqing was engaged in research of some special purpose aircraft and made sure that related types of planes were being researched based on plans. So the new-type electronic warfare aircraft is widely considered as the "special purpose aircraft", i.e. China's electronic-jamming aircraft based on J-16 fighter bomber, which is designed by Shenyang Aircraft Design Institute.

J-16 electronic-jamming aircraft will be a counterpart of America's EA-18G Growler, which is based on F/A-18F Super Hornet fighter. As J-16 fighter bomber has been equipped with advanced avionics systems including AESA and owns excellent multi-functions, so the J-16 electronic-jamming aircraft should have both strong lethality and battlefield survivability.
Analysts think that with J-16 electronic warfare aircrafts, Chinese fighter aviation will be able to assume deep and precise strikes in battles, and complement strike scopes of bombers better, and thus improve Chinese Air Force's capability of both attack and defense.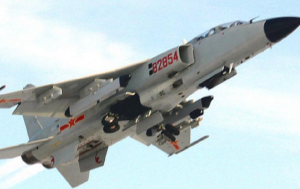 Actually, JH-7 has been found equipped with electronic pods long ago, but apparently, Su-30 is a better platform for electronic warfare aircraft as it owns better conditions for external equipment, as well as stronger maneuverability.
Based on Su-30 fighter, China's J-16 is even larger than U.S. EA-18G Growler in size, and thus may have more potential for modification.