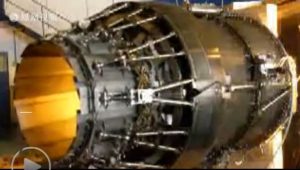 Chinese Academy of Engineering's official news on December 7th unveils that 70 academicians were newly elected, including Wang Huaming, engineer of Y-20, J-15 and J-31; besides, Wang Huaming was introduced to be hosting a project of special coating for a new-type thrust vectoring nozzle, and made great achievements.
The special coating appeared no significant wearing in a test run of 216 hours, while traditional solution would see a maximum of 2mm abrasion in over ten hours.
This news indicates that China has been researching thrust vectoring engine for a period of time, and has made breakthrough.
China's stealth fighter jets J-20 and J-31 prototypes are still using engines for fourth-generation fighters, which will not meet requirements of super maneuver.
It is also analyzed China bought Su-35 fighters to get technologies of 117S thrust vectoring engine, which will help the research of engines for J-20 and J-31 stealth fighters, as well as upgrade of J-11 fighters.