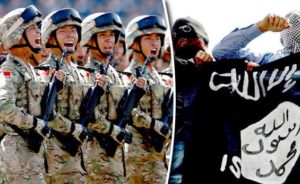 As China has just launched its new Anti-Terrorism Act, Chinese analyst He Liangliang said China would probably join into the actions against ISIS (Islamic State of Iraq and the Levant).
He Liangliang pointed out that according to China's Anti-Terrorism Law, once Chinese interests including citizens and assets are hurt or seriously threatened by terrorists, the authority should take respective actions. And since Iraq is an important oil exporter to China and China has engineers in large oil fields in Iraq where ISIS is rampant.
He also said China launched the act at this time to comfort citizens in face of severe anti-terrorism situation.
ISIS had just executed a Chinese hostage – Fan Jinghui in November. Even though Fan was suspected as an advisor for opposition forces of Syria, Chinese government expressed condemnation of ISIS.
Almost the same time, Chinese citizens were kidnapped in a terrorist attack in Mali. Although China has hundreds of peace-keeping forces in Mali, they didn't attend the rescue action launched by French Special Forces, and thus were questions by Chinese netizens.
Chinese experts explained that peace-keeping forces are under management of UN and have no right to participate in such actions.