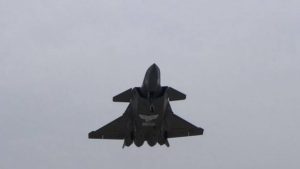 An anonymous Chinese military expert wrote an article saying that munitions merchants expect China's J-20 stealth fighter to be powerful. He wrote that these American enterprises made all their efforts to win the bid of fifth generation fighter of the U.S. Among them, Northrop lost the contract of "advanced fighter", and therefore had to merge with Grumman and became Northrop Grumman Corporation.
Although Lockheed Corporation won the bid and became the main contractor, but it had to divide the funds for the other two contractors – Boeing and General Dynamics. Furthermore, U.S Air Force finally only ordered 187 F-22 fighters, compared to 750 at first and 227 later.
A major reason for F-22's stop production is that there is no comparative opponents for it. U.S. Minister of Defense Gates said in 2011 that since China's and Russia's fifth generation jet fighters – J-20 and T-50 were still being developed, America's 187 F-22 fighters would have advantages even till 2025.
Besides, American law forbids export of F-22 fighter, regardless of lobbying of manufacturers.
Consequently, related munitions merchants of F-22 fighter in America actually expect J-20 to be strong, so that they would saw more demands for F-22 by U.S. Air Force. They wag their tongues about the "Chinese menace" for huge economic interests apart from that of political elections.