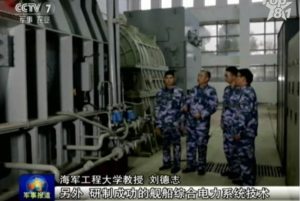 CCTV today reported technological achievements of China's military and 42 projects won the state sci-tech awards.
Military scientific researchers said in the interview that China's new power supply system had been equipped for naval vessels, and is beyond counterparts of the West.
Besides, the newly developed integrated power system has solved "heart disease" problem of China's naval vessels.
Another unclear source quoted by Eastday also reported recently that China's 712 Institute had developed marine power system with independent intellectual rights, and produced vessel medium voltage 3 mw power propulsion system and meanwhile made breakthrough in R&D of medium voltage propulsion frequency changer and electric motor.
It was reported that this core power equipment has various advantages not owned by traditional fuel oil engines, who are often noisy and gas-guzzling and limited in producing momentum.
This electric power system was said to resolve the upper limit issue of power, and greatly reduce space usage on ships. Its maintenance is also much more convenient, worries about oil leak on fuel oil engines are avoided.
The report concluded that China won't reply on export of vessel power system any more, and the improved power system will be hopefully used for homemade aircraft carriers.