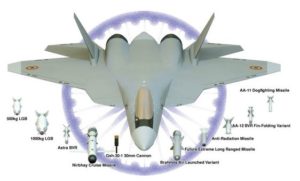 As China is making rapid progress in developing J-20 stealth fighter, and solving issues like the golden cockpit canopy and engines, India becomes more and more worried, and is now hurry to import French Rafale fighters and Russian T-50 stealth fighters.
But this could put India into a dilemma, because it may not be purchasing both fighters at the same time. If Rafale is chosen, the dream of stealth fighter may have to be delayed, but if Sukhoi T-50/PAK-FA/FGFA is chosen, the exact delivery time and overall performance are still unknown.
The worse thing is that India prefers western business mode rather than Russia's, and India can only get the simplified version of T-50 stealth fighter – PAK-FA/FGFA fighter.



According to 163's report, aiming at China's air force to have J-20 fighter jets, India air force will have to wait for more than 10 years for its FGFA fighter, but most of its fighters have been aged and some have been in service for 40 years, even the most advanced Su-30MKI is using technologies of 10 years ago.
The homemade LCA fighters haven't entered service after 30 years of development. Now Russia announced that it will only order 12 T-50 fighters, indicating that even Russia itself is not that confident in this stealth fighter, so India becomes more worried now.
Russia's Sukhoi T-50/PAK-FA/FGFA stealth fighter is still yet to be improved. And the improvement process will also need a period of time.
Even if India gets its contracted 154 T-50 PAK-FA fighters from Russia, they are only the simplified version of original T-50 fighters.
It is speculated that either the future T-50 or Rafale fighters of India, or its homemade LCA, or Su-30 will not be match for China's J-20 stealth fighters. So once Pakistan gets China's J-20 fighters, it would get air superiority against India.
Besides, Chinese media quoted unknown American expert's opinions on comparison between China's Chengdu J-20 fighter and Russia's Sukhoi T-50/PAK-FA/FGFA fighter, saying that T-50 stealth fighter is just an ultimate improved version of Su-27 fighter, its old-fashioned air inlet design is not good for stealth, while China's J-20 fighter jet features brand-new design, and more importantly, Chinese researchers have always been following the latest world technical trends, and J-20's high starting point will help close the gap between it and F-22 stealth fighters.
Furthermore, unclear sources also reported that Australian military experts had made radar refection computer simulation for both J-20 and T-50 fighters.
After the test, the experts concluded that both fighters perform well in stealth of the front parts, but the side parts are both unsatisfactory. But as the wave length goes shorter, J-20 with finer shape design performs better than T-50 fighter jet.
Besides, China's J-20 fighter still have great potential in design to improve its stealthy performance, while T-50 has little room for improvement except replace its jet nozzle with a new one like F-22's. So the final version of Chengdu J-20 fighter jet could be stealthier than the final Sukhoi T-50/PAK-FA/FGFA fighter.
It has been reported for times in recent years that India becomes more and more dissatisfied with Russia's attitude towards cooperation on T-50 stealth jet fighter, and might shift to America's F-35 fighter at last, to confront China's J-20 stealth fighters.
At first, India chose to invest in T-50 stealth fighter project, in order to upgrade its aviation industry, but gradually India found itself just an investor, obtaining no core technology of this fighter, not to mention that Russia itself has always been lagging behind the West in avionics.
And T-50's current AL-41F1 engine is not powerful enough for a fifth-generation fighter, its more powerful "Product 30" engine seems to be frustrated in development, Russia will not be able to product any engine like F-22 fighter's F-119 engine.
Indian military senior executive complained that "Russia made a new offer after they produced T-50 fighters, they required us to pay 3.7 billion dollars so that we will get all technical secrets and gain three prototypes of T-50/PAK-FA/FGFA fighters." India is is bankrolling Russia's T-50 while China's developing its own J-20 fighter.
Also check this for T-50's progress: Russia's Stealth Fighter Is in Serious Trouble