Chinese military expert Yin Zhuo said in an interview with CCTV that China is developing homemade aircraft carriers for actual combats just like other countries in the world, and China will build catapult-assisted take-off carriers with large tonnages.
He pointed out that China's future homemade aircraft carriers will have all-round operational capability to air, land and sea. Different from limited capability of Russia and Britain's current aircraft carriers, which are mainly capable of aerial ability, China's aircraft carriers will be able to attack enemies as well.
But that doesn't mean China has to build large carriers like U.S. Chinese military expert and senior colonel Du Wenlong said in a recent interview with Beijing TV that China's aircraft carriers should be able to cover the whole fleet in remote oceans.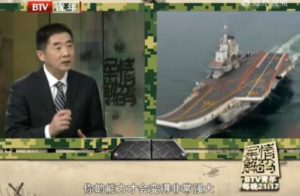 Du said China cannot catch up with U.S. by sticking to its old path, instead, China will pursue overtaking around the curve, so it will not build conventional aircraft carriers.
Du gave an example of putting Chinese aircraft carriers' ability of "anti-carrier" first, then they could be more powerful than the opponents.
Besides, high-end technologies will also be adopted on China's homemade aircraft carriers. For example, electromagnetic launch will be used for both manned fighter jets and drones, and nuclear power systems, laser cannons, electromagnetic guns will also be equipped.
It was reported that China's Type 022 aircraft carrier will be much more advanced than Liaoning or 001A aircraft carrier; besides, China has developed cutting-edge laser weapons, including laser guns and laser cannons.
For example, "PLA Daily" reported on December 9th 2015 that Chinese soldiers now have laser guns. Actually China's unveiled laser guns include multiple types – PY132A, WJG-202 and BBQ-905. It is also believed that China put into service a laser system for air defense during Beijing APEC 2014, according to Reuters' report.
China's 99A tanks are also rumored to have been equipped with laser blind weapon, which can disable enemies' optical equipment and hurt eyes of people who operate anti-tank systems.