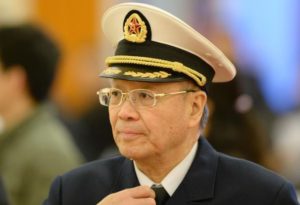 Chinese military expert Yin Zhuo, who is also director of Chinese Navy Information Technology Expert Committee, unveiled in a recent interview that J-20 may also become a carrier-based aircraft in the future.
He said the new homemade aircraft carrier of China will be similar to Liaoning Aircraft Carrier (a bit larger), and will also use ski-jumping flight deck, as J-15 will be onboard. Besides, anti-submarine helicopters, shipborne AEW helicopters and ambulance helicopters will also be on the aircraft.
Yin Zhuo said Chinese stealth fighters including J-20 and J-31 fighters might also become carrier-based aircrafts in the future. And the new aircraft carrier will also have better early-warning ability.
Besides, Chinese military expert Li Jie said China's homemade aircraft carrier will have all parts made in China, and various systems will be better than those of Liaoning Aircraft Carrier.
It has been discussed for years that whether J-20 fighter could be a carrier-based aircraft, as it is much larger than J-31 fighter and doesn't seem to be designed for aircraft carriers. Kanwa Defense Review once reported that studies on J-31's being on board had been carried out, but it's almost impossible that J-20 will also be on board.
Another famous Chinese military expert Zhang Zhaozhong, who was also a director of military logistic and equipment teaching and researching department, said in October that J-20 fighters would never be on aircraft craft, because it was not designed for aircraft carriers at the beginning. And there is no precedent example for a plane not designed for carriers to be on board later.