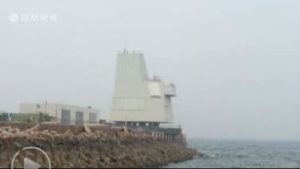 Recently a photo on the internet in China indicates that a new facility appeared in the electromagnetic compatibility test base located in Wuhan.
It is reported that this base once served for electromagnetic compatibility test for Liaoning Aircraft Carrier.
The "Island" of the new facility is totally different from Liaoning's. So it is speculated as a full-scale model of the new class aircraft carrier of China – Type 002 aircraft carrier.
It was reported by Japanese media before that China's new aircraft carrier will be similar to America's "Kitty Hawk" aircraft carrier, adopting a through deck and having a full load displacement of about 70,000 tons and four steam-driven catapults.
Electromagnetic compatibility tests are designed to test compatibility among different electromagnetic equipment in a warship, which is very important for safety and defense ability of warships.
Experts also guessed that the model is might for China's future Type 055 destroyers, which also adopt a stealthy shape.
Based on report of ifeng