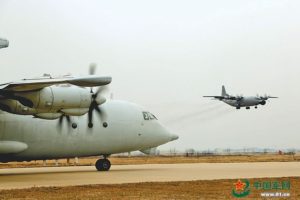 According to PLA's official website, the Northern War Region carried out a military exercise on March 24th.
Several early warning aircrafts were dispatched to detect enemy's fleet, and successfully guided JH-7 fighter bombers to attack it through composite detection and concise guidance.
According to the report, a network of information was formed via connection among the early warning aircrafts, fighter bombers' formation, observation and communication posts and naval vessels fleet, to help attack the enemy fleet.
The report also unveiled that extreme low-altitude flights in military exercises this year had caused high danger coefficient, high pressure for new pilots and tiredness of aircrews, and special meetings and seminars were held to address the issues, enhance the procedures and maintain strict standards for mechanical quality.