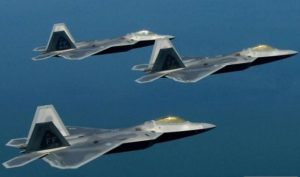 China's official media Xinhua News recently released a post written by military expert Chen Hu, who is chief editor of "World Military" journal sponsored by Xinhua's PLA Bureau.
Chen Hu doubted in the post why U.S. rarely puts F-22 fighter into real combat; instead, it was always used for "blackmails", to put on a show when Russia's strategic bombers approach or when Korean peninsula became tense.
Chen said although F-117 was not mature and was retired early, it joined battles frequently during its service, but F-22 hadn't been equipped with combat missile until recently, when some officials in charge of F-22 upgrading project said that AIM-9X missile would be put on F-22 fighters.
Chen said it is extremely rare in America's air force history that a weapon doesn't join any battle in a dozen years of service and then be ungraded with some very basic elements.
Chen concluded that F-22 may have fatal defects as it has been concealed for such a long time.
Some other analysts in China said that compared to the old F-22 fighter, J-20 has significant late-starting advantages, especially in respect of electronic components, such as distributed optical apertures (EODAS).