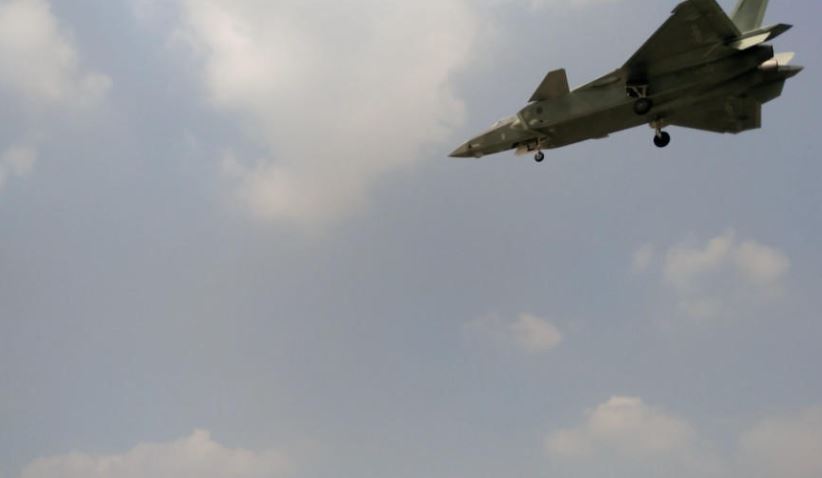 Since January 2011 when the "Black Ribbon" turned out until January 2014 turned "Galacticos", and then in the end of 2015, "Golden Flower" coming out, China's fifth-generation stealth fighter J-20's changeable coating is like "chameleon." And recently, J-20 has got an international faces.
According to the US "Popular Science" magazine's report on July 13, based on the Chinese mainland sites spread photos, a flight test of the new J-20 replaced with gray paint, head four-digit flight number disappear, the red and yellow wings air force emblem grayed low visualization coating. Printing generally believe that this is the J-20 fielded Chinese Air Force official painting.
US media said in July to fly small batch of four J-20, there are eight in prototype testing, possibly in 2017– deliver 12 J-20 Air Force to China in 2018, with initial operational capability.
In July 4 four sets of CCTV "Today's Focus", the military said Major General Yin Zhuohai J-20 may have been fitted out again, July 12 reported that money think tank, military commentator Song Zhongping on the microblogging disclose "J-20 volume production service "is very exciting.
Eighty-one air force emblem is no longer a bright red and yellow
Low visibility coating allows fighters in combat in "keeping a low profile."
Overcast whole body up and down, a variety of patterns contrast with the surrounding small low visibility coating is applied from the beginning of this century for the first time in the US Navy F-14 carrier-based fighter, and later major US military services widely used.
National defense science writer, Air Force Aviation magazine deputy editor outpost Fu said, J-20 light machine using visual emblem for stealth. "Low visibility coating allows light aircraft in severe pollution of the environment, the right to fight into the background, and significantly improve the fighter's chances of survival." According to Fu outpost reports, using the traditional red and yellow color Bayi air force emblem, bright colors are easy to spot from a distance.
"Five to the machine age, because both sides are stealth fighters, the likelihood of a sharp rise in close combat, often require pilots looked around visual cable enemy, so visual stealth effect is very important."
Edge of the new J-20 vertical tail using a lighter gray, Fu outpost explains: "engaged in art people know that if we are all the same color, sunlight will look deeper at the edges, then painted around the point light so that the contrast is not obvious. "this detail crafted, the foot can be seen flying into the research team" craftsman spirit ", put all the effort devoted to this town in the country weapon.
Small quantities will be fitted out to explore the Five machine "unique Cheats"
"A shot B guide" the combat mode a huge challenge
"R & D fighter, first argument, and then determining the tactical and technical indicators, and then design, technology freeze, then made plans to prototype manufacturing plant, then test, first test factory, and then entered the national test center for design certification test, test flight of the problems identified at any time to adjust, no problem, meet performance indicators, and can deliver the troops. "Song Zhongping explained to reporters," China Air force habits, start with a small batch production batch of the Air force fielded as soon as possible, by shaped machine against machine to explore new tactics, tactical preparation of the outline, may be further modified according to circumstances force feedback, improve the state of the art, and then implement production models, and then put into mass production. "this is also called" force test. "
Five heavy as the stealth fighter, with respect to the active fighter technology span a huge battle mode is also very different. How to fully play out the great potential of J-20, the Air Force is a big challenge. National defense science writer Zhang believes that "electromagnetic silent stealth fighter with AWACS sent to the target designation, target enemy missile attack, this 'A shot B guide' will become a common mode of the combat." Used to fly the F – 10, J-11 pilots of the army and air force command system, go through a process of adaptation.
"Falcon Eagle" slow progress uncertainty
J-20 is expected to dominate the Chinese Five Dynasties machine "Wild World"
China's Five Dynasties another machine – SAC FC-31 "falcon Eagle" is currently behind schedule in J-20, which modified the version 2.0 of the main wing and vertical tail Although public display model, but did not test the news.
Critics circulating a statement: Five machines cannot be medium-sized machine, and the machine must be heavy, because in the invisible state ammunition and fuel to be hidden in the body, only the heavy machine was stuffed into. Therefore, "falcon Eagle" is not the future, it is likely J-20 fighter, as China's Five Dynasties "dominate the political arena."
Zhang endorsed this view. "Chinese Air Force may only equip one kind of J-20 air superiority stealth fighter, another major project is the stealth bomber. Heavy Shenyang J-16 multi-purpose fighter to mount a large quantity of ammunition, were ground-to-sea combat." In his opinion, the future of the Chinese Air Force tactical Air Force and similar – stealth machine "Chuaimen" other aircraft "mopping up."
The larger the capacity the greater the responsibility. "Chuaimen" the burden is bound to the J-20. Song Zhongping that, in addition fight for air supremacy, J-20 can also perform tearing air defense network against C4ISR information node, Strike AWACS and tankers, remote air interception, combat aircraft carrier battle groups and other extremely dangerous mission-critical . According to him, presumably, J-20 production should reach 200 or more.