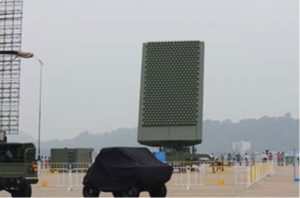 JY-26 UWB-radar (phased array radar) was exhibited by Chinese air force on 2014 Zhuhai Air Show, which features detectability of stealth targets like B-2, F-22 and F-35. Anonymous Chinese military expert unveiled that JY-26 UWB-radar successfully tracked America's F-22 stealth fighter jets above South Korea.
According to "East China Electronic Engineer Institute", this radar adopts UHF band and has huge power apertures, enabling it to detect stealth targets with double efficiency, and it can track 500 targets simultaneously.
JY-26 UWB-radar is similar to America's 3DELRR solution in appearance, but has less transmitting and receiving modules.
It is also unveiled that VHF band JY-27A radar can detect F-22 and F-35 fighters 500 kilometers away, and UHF band JY-27A radar can detect such targets in 300 kilometers.
Besides, as JY-27A, JY-26 and YLC-8B are all for foreign export, the self-using version should be more powerful. PLA's new radars tracked U.S. F-22 stealth fighters all the way last year when they took part in US-Korea Joint Military Exercise.
Insider said JY-26 UWB-radar will only be sold to faithful pals.