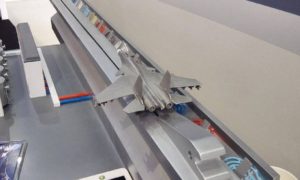 It was reported about two years ago that Chinese R&D team led by rear admiral Ma Weiming had successfully developed homemade technologies of electromagnetic launch and integrated electric propulsion, and China's electromagnetic launch is even more advanced than America's, as the former uses conventional voltage while the latter uses ultrahigh voltage for electricity charging.
Chinese military insider Zhang Ming said in a recent interview that Type 001A aircraft carrier under construction had been designed more than ten years ago, according to report of Can Kao Xiao Xi. Type 001A is based on Varyag (Liaoning) aircraft carrier and is used to let the construction team be familiar with the whole process and prepared for more advanced carriers.
"The following type 002 homemade aircraft carrier will be nuclear-powered using electromagnetic launch system, according to overseas report," said Zhang Ming.
In an interview with Hong Kong media last year, rear admiral Ma Weiming said China's technologies of electromagnetic launch system are absolutely OK and have been put into practice for multiple times in tests, and are even more advanced than America's.
Electromagnetic launch system plus integrated electric propulsion will be adopted by Chinese version of Gerald R. Ford Class aircraft carriers.
Chinese media reported in 2011 that the high-rank leaders of Chinese military was in a dilemma, as steam-powered catapult and electromagnetic launch were developed at the same time, but the former was not conducted smoothly, so it was hard to determine which side worth investment of hundreds of millions RMB.
Zhang Ming said as steam-powered catapult has high demands for craftworks which are shortcomings of China, maybe electromagnetic launch is better choice for China.
It was rumored that electromagnetic launch technology of China was firstly developed out of Ma Weiming's own pocket, and integrated electric propulsion is just his by-product. The model of China's electromagnetic launch system was displayed last year.