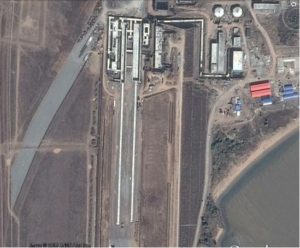 Recently a satellite picture prevails on internet in China, which was said to be "the third steam-driven catapult of Chinese homemade aircraft carrier".
The picture shows two runways at a carrier-based aircraft training center, which are 240 and 200 meters respectively. Canadian Kanwa Journal recently says that much information indicates that that catapult technologies will be adopted for the new homemade aircraft carrier of China to be built in Jiangnan Shipyard, and a third runway is being built for testing catapult at Xingcheng training base for carrier-based aircrafts.
There have been disputed whether the second homemade aircraft carrier will use steam-powered catapult or electromagnetic catapult system. It was reported that China had made great progress in developing its own electromagnetic catapult, which is even more advanced than America's. But it was also rumored that even top leaders of China felt hard to decide which one to use, as steam-powered catapult had been under development and electromagnetic one seemed to be advanced but also a bit too radical.
Many people in and out of Chinese military are impatient of China's conservatism in releasing information about its homemade aircraft carriers, and thus cause curiosity and sensitivity of the outside. In comparison, Russian government has been very willing to talk about their plans of developing advanced and powerful weapons.