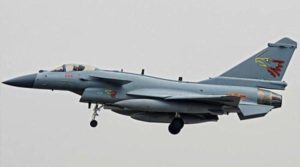 According to a report of thepaper yesterday, the latest version of J-10 fighter family – J-10C fighter might have entered service of PLA.
A new photo of J-10C on the internet features two sets of antennas on the dorsa, which indicates that it is J-10C, and a unique badge of an air force regiment was said to indicate that it has been in service. According to the report, this regiment is called as "No.1 J-10 Regiment" in PLA, which owns the newest weapons.
Besides, "Liberation Army Daily" said on Jan 28th that political instructor of this regiment explained that "the latest fighters are to be operational soon…the new fighters are extremely highly informationized".
This was reported as another proof that J-10C has entered service.
But today Sina reported that this photo is just a work of photoshop, the image on the tail was added by a Chinese military fan, who has apologized and asked media not to "over-interpret" it.
It was analyzed technical upgrades from J-10 basic fighter to J-10C fighter correspond to upgrade from 1987's  F-16C Block 30/32 to 2005's F-16E Block 60. And as J-10C and J-16 fighters are both equipped with active phased array radars, and J-11D and Su-35SK are also on the way, Chinese air force will witness peak of weapon update in the future five years, and fourth and fourth-and-half generations of fighters are expected to exceed 1,000.
JANES reported before that as China had made fast progress in developing active phased array radars, J-10C with new radar was developed on the basis of J-10B. And only about 10 J-10B were produced, while J-10C had entered production phase and provided for PLA air force.