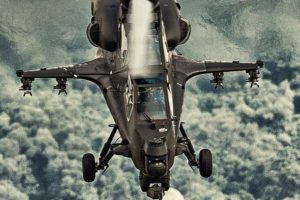 According to a recent report from Qiangjiang Evening, China's homemade helicopter gunship will hopefully have new-type homemade WZ-16 engine, which features more power than currently used WZ-9C engine, of which the power is merely about 1,000kw.
WZ-16 engine is a medium thrust engine jointly developed by AVIC and France, and will be firstly equipped on Z-15/EC175 helicopter made by China and France, which has won over 100 global orders. WZ-16 engine is expected to improve WZ-10 gunship to the same level of Apache attack helicopter.
At present, WZ-10 gunship can only hang 8 antitank guided missiles, compared to 16 of Apache.
According to famous Chinese military expert Song Zhongping, WZ-10's maneuverability is comparable with foreign counterparts, but its armors are thinner due to limited power of engine, and this could be fatal in battles.
WZ-10 helicopter was expected to use Canada's PT6C-67B engine with full authority digital electronic control system and 1,250kw power, but was later obstructed by U.S.
It was reported that WZ-10 helicopter also tried Russia's VK-2500 and Ukraine's TV3-117, but finally adopted homemade WZ-9C engine, at the expense of compromising performance.