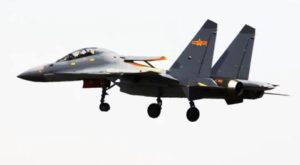 Although Shenyang J-16 fighter has not been officially reported, its photos have been spread on the internet for a while. Some people think it's a new type of comprehensive fighter with strong air-to-ground attack ability, while others think it's the most advanced Chinese air dominance fighter based on Su-30.
Recently a photo of China's fighter cockpit display was unveiled on the internet, and it has been speculated to be display of China's advanced fourth-generation fighter J-16's. The cockpit display is very similar to F-35 fighter's display; it features the ability of attacking multiple targets within a range of 200 kilometers and advanced joint information distribution system.
Analysts said according to this cockpit display, the traditional electromechanical instrument has been totally removed, and even if J-16 is a fourth generation jet fighter, its cockpit display might be similar to that of J-20's.