China military not only has underground missile bases, but also owns dozens of underground air force bases.
In modern wars, military airports are always important targets for bombing and attack. Ground airports are so fragile that could be easily destroyed, which have been proved in military history in the world.
For example, in Gulf War, Iraqi's heavily invested fighter fortress on the ground cannot stand up to attack of 2000 pound of bombs dropped by F-117 stealth attack plane.
But China military has owned underground military aircraft hangars since 1960s, based on technologies from Soviet Union and the West, and in the past few years, these bases have been upgraded and consolidated greatly, so that even precision guided munitions, earth-penetrating projectiles and ballistic missiles cannot harm the secret bases of Chinese air force, which are at least 20 meters under stone mountains. Besides, heavy earth-penetrating projectiles have to be bombed just over the bases, which is nearly impossible due to dense air defense systems of China military.
Nowadays, almost all military airports in China have underground fighter hangars, oil depots, power supply stations and command posts.
As a result, it is impossible to eliminate all fighters of Chinese air force at one time. Once the war starts, any enemies have to face protracted war against China.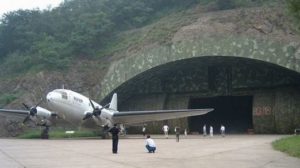 During World War II, Germany took the same tactic of transforming production lines, missiles and fighters to the underground, and thus avoided bombs from the allied forces effectively.
And thanks to the underground air bases of China military, increase or decrease of jet fighters, mobilization scale, storage of fuel and ammunition could not been confirmed by any opponents. Enemies would not be able to confirm details of air forces of exact bases until the fighters go out of the bases and take off.
Judging from satellite photos, Chinese air force's underground bases have about 12 to 15 meters of diameter of caves, cave gate for bombers could be 35 to 40 meters. And the underground air force base of Albania built by China can be took as a reference for judging structure, materials, shape and functional locations of Chinese underground air force.
China probably used exactly same architectural principles, structures and technical features when it helped other countries with their underground air bases. So details of such bases have been leaked, Albanian and North Korean underground air bases built by China military are typical examples.
But China military's air bases under the ground could be much larger and broader than those of any other countries or areas in the world, including North Korea, Sweden, Switzerland, Yugoslavia and Taiwan. And they are so solid that cannot be destroyed even if enemies know the exact locations and structures.
Locations of such underground air force bases of Chinese military are very provident; many underground aircraft hangars were built just nearby ground airports. Some of the underground hangars seem to be abandoned, some are being built, and some might be built in the future, judging from geographical conditions of some military airports on the ground.
It is estimated that China military's forty underground fighter bases can hold as many as 1500 jet fighters, equal to the number of all advanced fighters of China air force. And this figure could be even bigger is minor tunnels in the underground air bases of China are also used for parking jet fighters of Chinese air force.
The primary attack forces of China military are greatly protected by the 40 underground air bases plus the 5000km underground missile "great wall".
To deal with underground air bases, US air force has specially developed some type of earth-penetrating projectiles, and continues to upgrade them; meanwhile, US military also keeps collecting latest information of Chinese underground military air bases.